The exhibition floor at SXSW offers a mixed bag of experiences, from smart motorcycle helmets to devices that induce stuttering (true story, I tried it, it didn't work). But one of the more intriguing products was to be found at Canada's stand: Fragment, a smart commemorative object that helps grieving relatives get through their pain.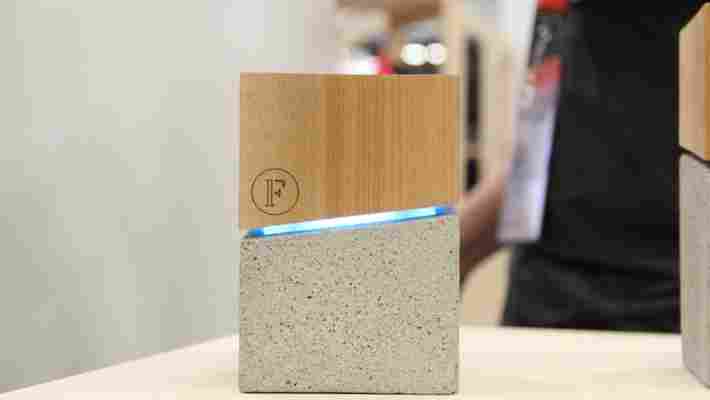 At first glance, the object caught my attention because it looked like something straight off the internet of shit twitter. A smart urn, really?
But after talking to founder David Beaulieu, it actually started making sense. The Quebecois entrepreneur told me he had been in the funeral business for years, but was frustrated that the "funeral business is stuck in time."
"We want to design better funeral rituals," he told me. "We consume most of our content, pictures, videos on our smartphones nowadays." Beaulieu thinks the mourning process should reflect that.
His startup Fragment.life "offers an online platform allowing the family and friends of the deceased to collaborate to create a vibrant tribute," according to the site.
The platform lets relatives and friends of the deceased upload pictures, videos and memories that are shared with others in the group. In the end the platform turns the memories into a tribute video, a kind of "collective memory."
Even though this might seem to trivialize grief, it actually makes a lot of sense to offer a service like this – especially letting everyone who knew the deceased to share their memories on a centralized place.
Apart from the platform, the startup is also working on a smart object that helps people get through the different stages of grief.
The object is half concrete, half wood and has a light that glows in between to communicate with its owner. Although Beaulieu was still vague on the details, he told me the idea is that the object points you to their app, where you're offered "an array of curated content relating to grief, mourning, and death."
The app learns from interaction: "Our intelligent algorithm uses a mixture of user and AI input to automatically sort through thousands of different sources and suggest relevant content."
Or as Beaulieu put it to me: "This is the new way. We don't want to take away anything from the existing grieving process of seeing people and talking to them, we want to add in a digital component and integrate that into how we mourn."