At the Game Developer's Conference in San Francisco today, Microsoft announced a couple of important steps in its push toward mixing the real world with the virtual.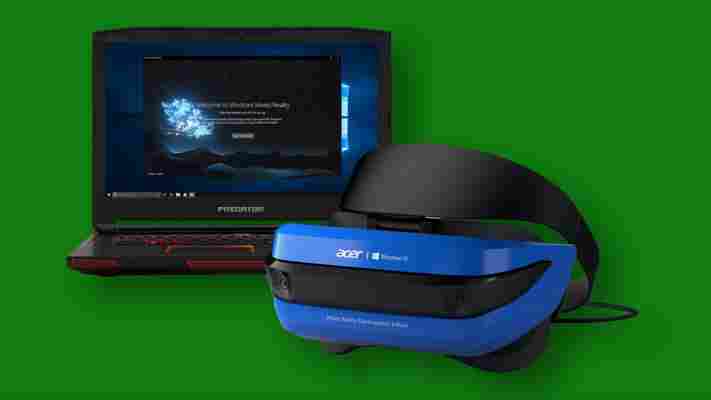 First off, the company confirmed mixed reality experiences are coming to the Xbox family in 2018, including the next-gen Project Scorpio .
If you're confused about what "mixed reality" is, you're not alone. Basically, it's a term encompassing both virtual reality and augmented reality – really, any experience that mixes the real world with digital information. That means we don't know if future Xbox experiences are coming in the form of a HoloLens-like transparent headset, or a VR experience a la Oculus.
There's a chance we'll see a bit of both. VR experiences have already proven themselves for gaming via Rift, Vive, and Playstation VR, but the augmented side has its merits too, as seen by the likes of Pokemon Go). It would be pretty awesome to see a future HoloLens provide a HUD-like interface while gaming, for instance, or help you visualize enemies coming into a scene from outside of your TV frame.
In other mixed reality news, Microsoft is launching a new developer kit for immersive experiences, a mouthful known as the 'Acer Windows Mixed Reality Development Edition headset'. In case you couldn't tell, it was built in partnership with Acer. It's a full fledged headset with specs on-par with the current cream of the crop:
Two LCDs at 1440 x 1440 each
90 Hz refresh rate
Audio and microphone support through 3.5mm jack
Single cable with HDMI 2.0 (display) and USB 3.0 (data)
It seems the goal is to give developers a high-fidelity option to use while creating their MR experiences, without having to hack a Vive or Rift. Moreover, it has an advantage over the competition in the form of inside out-tracking. As with the upcoming partner headsets , that means it doesn't have to rely on separate external cameras to figure out where you are in a room. It should also be able to replicate your living space fairly accurately as well, if HoloLens is any indication.
Microsoft says it will reveal more news on mixed reality during its Build conference in May. The dev kits will begin to ship later this month for the lucky attendees at who GDC were able to walk out of Microsoft's session with a "golden ticket" to receive a headset. Everyone else can sign up to learn more here .