Olympus' flagship E-M1 series is getting a refresh with the new Mark II model.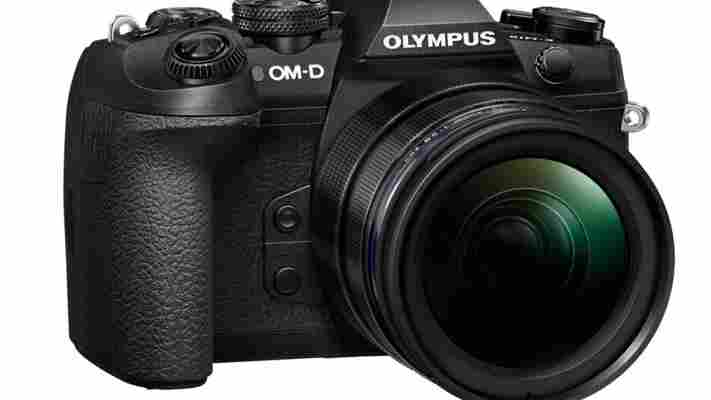 While Olympus has made strides towards proving mirrorless cameras as professional tools, they still generally lagged behind DSLR's in overall capture rates and assertive focus. So speed is the name of the game here; Olympus is touting the E-M1 MK II as one of the fastest cameras for sports and professional photography.
The camera can shoot stills at a whopping 60 frames per second at full resolution with the electronic shutter and autofocus and exposure locked, or 18 fps with continuous autofocus and exposure. If you want to use the good ol' mechanical shutter, that's cut down to a still-super-fast 15 fps.
Perhaps more importantly, Olympus says it's 'drastically' improved AF tracking, and now allows you to customize the strength of autofocus lock-on, as well as set a focus limiter so you only capture subjects within a certain distance range. You can also now use the read LCD panel as a touchpad for moving your focus point while using the viewfinder.
The new speed chops are all thanks to an improved quad-core image processor and a new sensor – the first real upgrade in Olympus' line-up since the original E-M5 introduced the current 16MP sensor way back in 2012.
The resolution has been bumped up to 20.4 megapixels for one, and a minimum ISO 64 setting suggests improved dynamic range. These bumps should be augmented by an improved high resolution mode.
The E-M5 MK II introduced a 'high res shot mode' that used the stabilizer to compile eight exposures into a 40 megapixel image with improved colors and dynamic range, but the mode only for still subjects worked when the camera was mounted on a tripod.
Now the camera will be able to suppress blur from moving subjects such as tree leaves or ocean waves – though Olympus still isn't saying it can be used handheld – and the images will be as large as 80 megapixel raw files, or 50 megapixel "equivalent" JPEGs (meaning the JPEGs are probably smaller but sharper). There's also a 25 megapixel setting for saving some storage.
Speaking of the viewfinder, Olympus has increased the frame rate to 120 fps (over a max of 60) and brought down the lag to a tiny six milliseconds. More than just fast autofocus, one of the biggest disadvantages of mirrorless cameras for action photography is the difficulty of physically pointing your camera at a moving subject, so these improvements should help a good deaal.
Olympus is also finally focusing on video after wetting its feet with the E-M5 MKII. The EM1 MKII can shoot in 4K at up to 237 Mbps, and the new sensor allows for a three times faster read speed to suppress rolling shutter during quick pans (also know as the video jell-o effect).
There's a new stabilization mode specifically tuned for movies too, and you can capture uncompressed video via 4:2:2 external output. Panasonic's upcoming GH5 does the same internally, but it's still a huge step forward for Olympus.
Some other key details:
121 cross-type phase detection points, spread throughout the sensor
5.5 stops of in-body image stabilization (previous 5 stops), up to 6.5 stops when paired with stabilized lenses from Olympus
30 percent reduced shutter lag
Dust, splash and freezeproof
Dual memory card slots at last
37 percent higher capacity battery than predecessor, 50 percent faster charging
Focus stacking mode for up to eight exposures
You can back up your camera settings on your PC
Finally, Olympus is announcing a new Pro Advantage Program to take on Canon and Nikon's professional services for $99 a year. It includes a number of benefits including free overnight shipping on repairs, loaners for extended repair periods and two 'clean and check' coupons per year to make sure your camera is in good condition for your next shoot.
No word on price or an exact release date yet, but Olympus says the camera will be available "later this year." Start saving up so you can get those new lenses too .