I love to travel. But I'm not keen on how hard it can be to stay connected while abroad.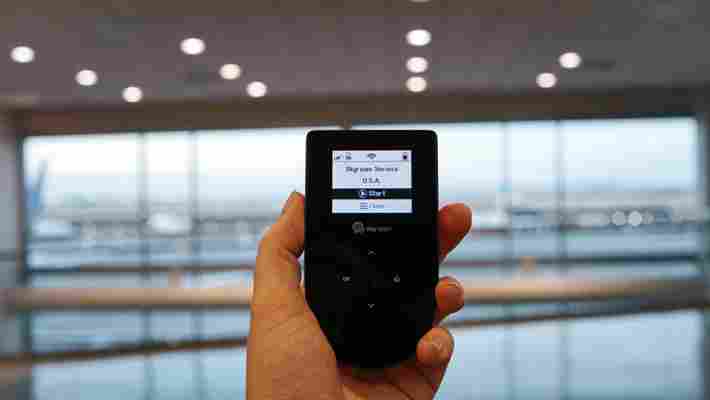 Roaming is still excruciatingly expensive. Even if your provider offers free roaming, it's usually capped to near-2G speeds. And while hunting down free Wi-Fi hotspots is pretty tiresome, it doesn't come close to how irritating it is to stand in line for a local SIM card.
But in 2014, I got a new toy that made all these problems history for me. The device is called Skyroam , and acts as a mobile hotspot that allows you to connect five devices to the Internet for a flat fee of $8 per day.
The device first launched in the US, where it retailed for $100, with the option to rent it for $10 per day. Consumers outside the United States who wished to buy one were able to, but they had to stump up for international shipping, plus any taxes and duties that may be levied.
But now, getting your hands on one is about to get less annoying.
Skyroam will now sell directly to consumers in Germany, Spain, Italy, France, and the UK ( via Amazon ). It also plans to sell the device in European duty-free stores, as well as through in-flight shopping on Lifthansa, Austrian Airlines, Edelweiss, Eurowings, Air Berlin, and Alitalia.
Pricing, obviously, will vary depending on what country you get it from. In the UK, it's going for £97 (roughly $120), which seems about right.
The move comes at a time when Skyroam is planning a massive expansion into Europe, having just opened a new headquarters in Berlin.
"It was only natural that we open our doors in Germany, the largest outbound travel market in Europe, to globally connect travelers in more places than ever before," said Skyroam CEO Jing Liu. in a statement.
"We are committed to giving our large European user base the best international mobile WiFi service possible and a direct access for picking up a Skyroam anywhere, anytime."