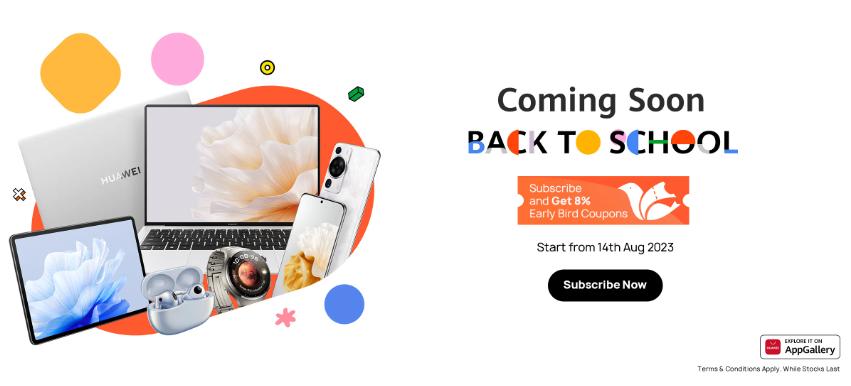 Smartwatches have become more than just gadgets; they are fashion statements, fitness companions, and productivity tools rolled into one. You're in luck if you're searching for the perfect smartwatch without breaking the bank. In this article, we'll explore some savvy strategies to get your dream smartwatch at a discounted price while highlighting the fantastic offerings from Huawei's smartwatch lineup.
Tips for getting discount smartwatches
Huawei smartwatches have gained popularity for their stylish designs, cutting-edge technology, and diverse features. Whether you're a fitness enthusiast or a tech-savvy individual, Huawei's smartwatch range has something for everyone. As summer draws to a close, students and tech enthusiasts gear up for the new academic year, and Huawei is here to add some extra excitement to the back-to-school season.
From 14th August 2023, Huawei will offer unbeatable back-to-school deals on its impressive lineup of products, including its sought-after smartwatches. This is the perfect opportunity to get your hands on a Huawei smartwatch, the feature-rich Huawei Watch GT series or the elegant Huawei Watch Fit 2 at a discounted price.
Set Your Budget
Determine how much you're willing to spend on a smartwatch. Having a budget will help narrow your options and avoid overspending.
Research and Compare
Do your homework by researching different smartwatch brands and models. Compare features, functionalities, and reviews to find the best fit for your needs.
Wait for Sales and Special Events
Watch for seasonal sales such as Huawei back to-school deals 2023. These are ideal times to score significant discounts on various smartwatches from the Huawei online store. They often come with a considerable discount.
Sign Up for Newsletters and Notifications
Subscribe to newsletters and notifications from your favourite smartwatch retailers or Huawei's official website. This way, you'll be among the first to know about upcoming deals and promotions.
Trade-In Offers
Check if retailers or manufacturers offer trade-in programs for old smartwatches or other devices. This could fetch you additional discounts on your new purchase.
Loyalty Programs
Some retailers have loyalty programs that reward repeat customers. Joining these programs might earn you exclusive discounts or benefits.
Bundle Deals
Keep an eye out for bundle deals to get a smartwatch and other tech accessories at a discounted price.
Consider Older Models
Newer smartwatch models might overshadow the older ones, leading to price reductions on the latter. Consider opting for an older model if the latest features aren't essential.
Conclusion
We hope we guided you well in finding the smartwatch at a discount. Finding the perfect smartwatch at a discount requires patience, research, and timing. You must watch sales, exploring Huawei's excellent smartwatch options. Also, you need to take advantage of a Back to school deal.You can finally own the smartwatch of your dreams without straining your budget. You can use these watches to monitor your health all the time. These watches will be perfect if you are a swimmer or another sports person. The watches have all the important features you need to monitor your physical health and connect you with the world. So, get ready to elevate your style and embrace smartness on your wrist!