Ever since the original Razer Blade was announced way back in 2011, the series has received some praise as the MacBook of gaming laptops. For good reason – it was one of the first glimmers of hope that a laptop could pack in a powerful graphics card without the dimensions of a whale or looking like it was designed by a teenager on an acid trip.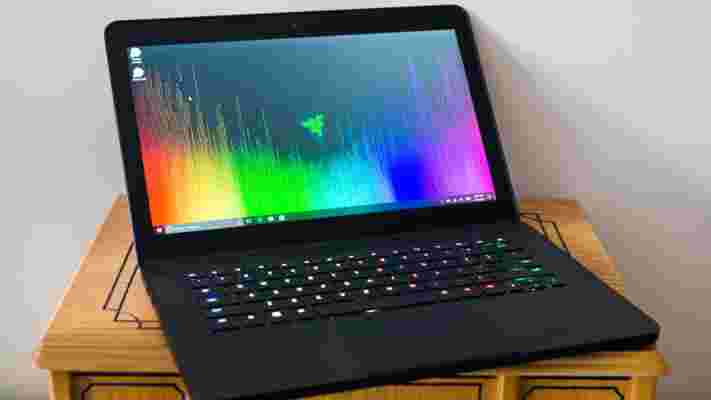 Now packing a VR-ready Nvidia 1060 , the Blade is a more powerful gaming rig than ever, but it's the classy design and compact chassis that really impress.
Note: This review was done with the Skylake version of the device. The Kaby Lake version should pull in slightly better performance and battery, but overall results should be quite similar. Our review unit also featured a QHD+ display which is being replaced with a full 4K display soon.
Intel Core i7  Kaby Lake 7700HQ Quad-core (Skylake 6700HQ tested)
Nvidia GTX 1060
16 GB RAM
256 GB/512 GB/1 TB Storage options
0.7″ x 13.6″ x 9.3″ dimensions
4.10 lb /4.3 lb
1080p non-touch/4K touch display options (QHD+ tested)
2x USB 3.0, 1x Thunderbolt 3 (USB-C), 1x HDMI
Chroma RGB keyboard
I'm not someone who particularly minds carrying around a flashy gaming laptop – I used to lug around a 17-inch monster – but it's nonetheless a relief to pick up the 14-inch Razer Blade, which weighs a little over 4 pounds and is just 0.7″ thick, and know it packs a nearly desktop-level Nvidia 1060 and decent battery life (more on this later). The compact design even extends to the power brick, which you can can reasonably slide into a messenger bag, unlike the monster included with the Alienware 13 I tested simultaneously.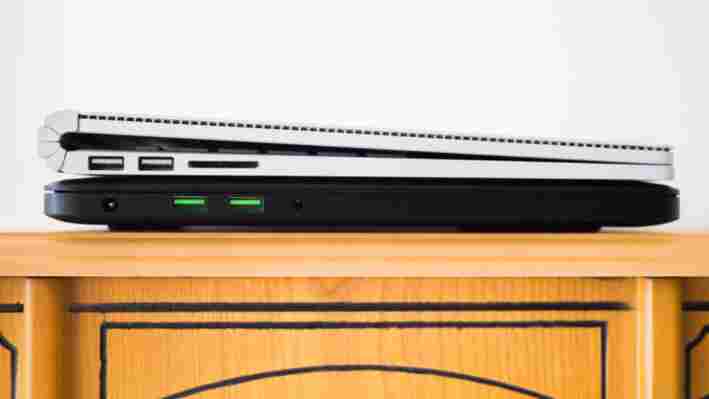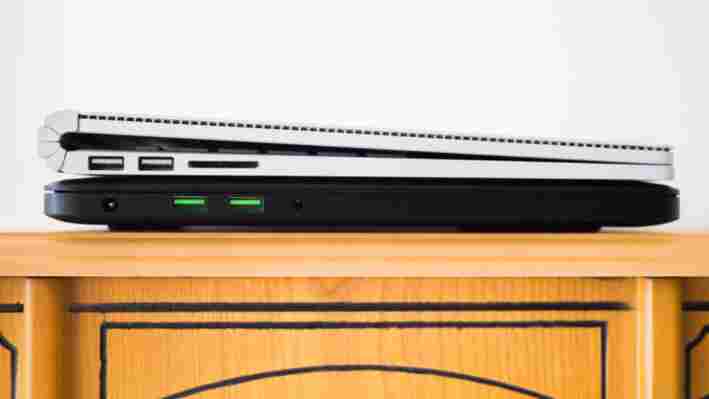 The Blade's matte black finish on the aluminum chassis is both stealthy and classy, and the green USB ports add just enough L33T styling without it being too gaudy. That said, Razer has got to do something about that neon serpentine logo. It almost negates all the good work done with the rest of the design. In the meantime, just put a sticker on it or something.
Of course, this wouldn't be a gaming machine without flashy RGB lights, but thankfully Razer does them better than anyone else. Other companies include more lights – the aforementioned Alienware 13 even has an RGB trackpad – but Razer's lighting is free of any leakage and is customizable down to the key. I liked using a reactive mode that responded to my typing, set to not-too-distracting shades of blue.
Oh, and actually typing on it is pretty nice too. They don't have particularly deep travel but the keys are clicky and responsive. I also had no issue with the trackpad, although the Synaptics technology isn't quite as smooth as Microsoft's Precision drivers seen on the Surface line and some third party products.
The laptop's slimness does mean you sacrifice a bit on port selection compared to some of the competition: you get two USB 3.0 ports, one Thunderbolt 3 (USB-C) jack, and one HDMI 2.0 slot. Note that if you want to play on a 144hz monitor, you might need a Thunderbolt 3 to DisplayPort adapter to get the full speed, as HDMI currently maxes out at 120 hz at 1080p.
Speaking of monitors, the display is unfortunately just alright. With the important disclaimer that the QHD+ screen I reviewed is no longer being sold (Razer is updating it to a full 4K display soon), it washes out slightly even when just a bit off center. Colors are mostly accurate, but the display is a tad warm and whites and greys are particularly prone to distracting color shifting. It's not bad by any means, but I've come to expect premium price tags to command premium displays, and the Blade doesn't quite cut it.
So while you can't buy the QHD+ panel any more, keep that in mind if buying used, and wait for impressions on the 4K version when it arrives. Otherwise, I'd stick to the 1080p version unless you really need the extra resolution for something like photography or really want a touch screen. For gaming, 1080p should suffice at this screen size anyway, not to mention the likely battery-life benefits.
Which bring us to performance – this things flies. It has a quad core Core i7 processor and a PCIee SSD. It's got a fairly storage performance at about 1200/300 MBps read/write speeds, if not as fast as the quickest NVMe drives. Meanwhile 16 Gigs of RAM should suffice for everything but the most intense video editing work.
Of course, the heart of the device is the Nvidia 1060, and it performs admirably, if not surprisingly. It's VR ready, and will handle almost any modern game at 1080p at high or even ultra settings at 60fps+. At this screen size, I see little reason to play at higher resolutions.
If you want to output to a high resolution external monitor or TV, you should be able to play less demanding titles like CS:GO or Portal 2 at 4K and still get over 60 fps, but otherwise you'll still want to dial down the quality a bit for 4K gaming. That said, it's worth noting that should you ever want to upgrade your graphics somewhere down the line, you can shell out the money for a Razer Core and a desktop graphics card.
The last bit of the equation is battery life, which is also pretty admirable for a gaming machines. At about 70 percent brightness brightness and mostly working in Edge and some Chrome, it lasted around 4-6 hours, which is plenty for my uses. You'll almost certainly get slightly better battery life from the Kaby Lake version with the 1080p screen, but I can't speak to those (although there are plenty other reviews out there suggesting this is the case).
Starting at $1,900 for the 1080p model with 256GB of storage and climbing up to $2,800 for the 4K model with 1 TB, the Razer Blade is hardly cheap. But that doesn't mean I think it's overpriced.
While you can find more powerful gaming machines, and even others similarly thin and light, there is simply little out there with the combination of power, classy design, portability and battery life. Take one of its main competitors, the Alienware 13. That one feels even more solid somehow, has more ports, sports an optional amazing OLED display, and has similar battery life. And yet, it is larger in every dimension, weighs nearly 2 pounds more (not even counting the power brick) and still has a well-made but divisive gamery look. There are competitors that match the Razer in size and power (MSI's Stealth series, for instance), but then suffer from lackluster battery life and/or design.
On the other hand, if you can do with less graphics power, you'll want to give Dell's XPS 15 a look; the 4K display is amazing and the chassis is only a little bit larger thanks to the tiny bezels. But while the Nvidia 1050 in that laptop will suffice for 1080p gaming at medium-high settings, it's only about half as powerful as the 1060 , and doesn't meet the minimum spec for Oculus or Vive.
Razer has managed to find itself a sweet spot for a gaming rig, especially now that Nvidia's latest chips make pretty much any game playable at 1080p. It may not be the mobile gaming for everyone, but as far as something that works as well in an office as at a LAN party, the Razer Blade stands in class of its own.
We like some products. We don't like others. Either way, if you buy something through our affiliate links, we get a small cut of the revenue. This isn't a sponsored post, but for the sake of transparency, you deserve to know what's up.