Asus's Transformer P1801 is an odd beast: part extra-large Android tablet, part Windows 8 all-in-one desktop. When docked, the tablet is an 18.4in IPS display for the PC, but as soon as you lift it from the dock, it becomes a stand-alone tablet with a Tegra 3 processor, that gives you continued control of your Windows applications via a remote desktop client.
PC MODE
As an all-in-one PC, the Transformer is distinctive, if slightly odd looking, with a bulging rear that contains all the components of a full PC. Both tablet and the PC dock have a selection of ports, but they're not fully integrated. For example, inserting a microSD card into the slot on the tablet makes it appear as a sub-folder of the already-mounted tablet's storage, rather than being mounted as an external drive by the PC, and the volume buttons on the side of the tablet can't be used to control the PC's volume when docked.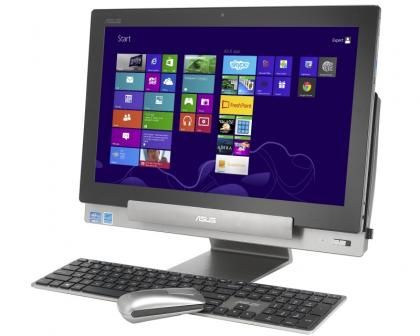 The PC has all the ports you'd expect from an all-in-one. At the right of the dock you'll find four USB3 ports, an SDXC/MMC card reader and 3.5mm mic and headphone ports. At the back, there's an HDMI output for a second screen alongside a Gigabit Ethernet port, while on the right-hand side there's a DVD-RW slot drive and a USB port that's designed to house the dongle for the supplier wireless mouse and keyboard. The built-in speaker is surprisingly loud and clear, making this one of the best-sounding all-in-one PCs around. Both dock and tablet support dual-band 802.11n Wi-Fi.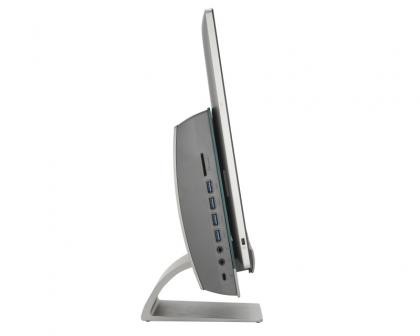 The slim, chiclet-style keyboard has a stylish brushed-metal finish and reminds us of Apple's latest iMac keyboards; it also feels a little cramped and isn't terribly responsive. Fortunately, it proved easy to type accurately on, despite the unusually positioned slash key wedged between backspace and enter. The mouse is an odd-looking silver wedge. It's a long way from being ergonomic and its touch-sensitive scroll wheel took a bit of getting used to, but it does the job reasonably well.
The PC bit of the Transformer is actually quite powerful, thanks to a 3.7GHz Intel Core i5-3550P processor, which gave us an overall score of 84 in our benchmarks. It's only got 4GB of RAM, but that's plenty for basic desktop tasks under Windows 8. A 1TB HDD provides plenty of storage capacity, which is for the best, as the system isn't designed to be upgradeable.
The PC has an Nvidia GeForce G730M mobile graphics processor, so you can even game on it. At a resolution of 720p, 4xAA and high quality, Dirt Showdown ran at 50fps. We couldn't get anything approaching a playable speed when we ran our 1080p/Ultra quality test, but we got a frame rate of 31.5fps when we dropped to High quality at 1080.
Unfortunately, although the PC has a good graphics processor, the tablet display - even though it's IPS - is incredibly reflective and looks dull and greyish at all but the very brightest settings, so you'll probably want to adjust the brightness to 20 and leave it there. Configured like this, it's not an amazing display, but it's certainly a comfortably functional one. You can also select from three preset colour modes and adjust the colour temperature via a utility.
TABLET MODE
The main appeal of the Transformer is that you can, for example, be sitting in your bedroom or study working on the PC and then just lift the tablet off the dock and take it into the next room, seamlessly continuing whatever you were doing. While you might expect Asus to have opted for some combination of Windows 8 and Windows 8 RT, we reckon this would have been highly confusing.
A simple Windows utility helps you configure the tablet before you ever undock it, getting you to provide it with your Wi-Fi network password so it can connect to your PC. Before detaching the tablet from the dock, you'll also want to run Asus's Splashtop Streamer, which associates the Android remote desktop app with the PC and lets you create a security code for the connection.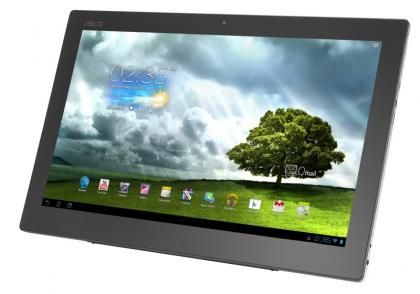 It feels very natural to switch from using the tablet as a display to picking it up and taking it elsewhere in the house to continue working, browsing or even playing a game. Just as with any other Android tablet, you can associate a Bluetooth keyboard with the device if you want to be able to convenient keyboard shortcuts to Windows' Charms bar and Start Screen, as well as the ability to work with other, less touch-friendly applications.
The dock and the tablet have to be on the same network for the remote desktop feature to work, so if the tablet goes out of range of the network that allows it to communicate with the docking PC, it'll switch into standard Android mode. You can also do this at any time using the mode switch button on the side of the tablet. If you use the switch when the tablet is docked, it'll switch to using Android and you'll still be able to use the dock's keyboard and mouse to control it - a particularly nice touch.
The tablet also has a 3.5mm headset jack, built in microphone and speaker, a camera on the same side as the screen and hard standby and volume switches. It has a stand on the back that allows it to be propped in landscape mode only, as well as a small carrying handle that pulls out from the top of the device. There's also an external power connector so you can charge it or run it off the mains even when it isn't docked. This is a worthwhile feature, as it has a battery life of just four hours and 42 minutes.
The tablet's Android 4.1.1 (Jelly Bean) installation has full access to the Google Play store, so you can install all your usual apps. The tablet's 1080p resolution means that some apps designed for a smaller screen and lower resolution can look rather blocky, but you're given the option of shrinking them back to a smaller size. In practice, most of our apps looked great and ran perfectly. The tablet is fairly powerful, thanks to its Nvidia Tegra 3 processor, and scored 985.8ms in Sunspider. That's faster than Google's Nexus 7 and almost as quick as the Apple iPad 4.
CONCLUSION
Although it's technically very impressive, it's hard to see what the Transformer's exact niche is. The tablet's a bit too big to be really convenient to use on your lap in front of the TV, but a small size wouldn't work so well as a display for a full Windows PC. It's fine if you want to prop the tablet up on its built-in stand to use in the kitchen, entertain the kids or watch a video in bed, but we couldn't come up with a must-have usage scenario for it.
At £1,119, the PC is expensive, which is understandable given how innovative it is. It's due out in mid-April. Alternative specifications with Core i3 or Core i7 processors, more RAM and built-in TV tuners will also be available. There are lots of similarly priced all-in-one PCs, but most have much bigger screens, focusing instead on being really capable home computers, while the Transformer is built to be versatile. We really appreciate the Transformer as a technological innovation, but we're not sure that anyone really needs an all-in-one with a small screen that converts into an unusually big tablet.
| | |
| --- | --- |
| Processor | Intel Core i5-3550P |
| | |
| --- | --- |
| Processor external bus | 100MHz (DMI) |
| | |
| --- | --- |
| Processor clock speed | 3.7GHz |
| | |
| --- | --- |
| Motherboard chipset | Intel B75 |
| | |
| --- | --- |
| USB2 ports (front/rear) | 5/0 |
| | |
| --- | --- |
| eSATA ports (front/rear) | 0/0 |
| | |
| --- | --- |
| Wired network ports | 1x 10/100/1000 |
| | |
| --- | --- |
| Wireless networking support | 802.11a/b/g/n (dual-band) |
| | |
| --- | --- |
| PCI-E x1 slots (free) | N/A |
| | |
| --- | --- |
| PCI-E x16 slots (free) | N/A |
| | |
| --- | --- |
| Hard disk model(s) | Seagate Barracuda (ST1000DM003-9YN162) |
| | |
| --- | --- |
| Graphics card(s) | 2GB Nvidia GeForce GT 730M |
| | |
| --- | --- |
| Graphics/video ports | HDMI |
| | |
| --- | --- |
| Sound outputs | 3.5mm stereo headset port |
| | |
| --- | --- |
| Supported memory cards | SDXC, MMC |
| | |
| --- | --- |
| Optical drive type(s) | DVD+/-RW +/-DL |
| | |
| --- | --- |
| Native resolution | 1,920x1,080 |
| | |
| --- | --- |
| Keyboard | Asus wireless optical mouse |
| | |
| --- | --- |
| Mouse | Asus wireless keyboard |
| | |
| --- | --- |
| Operating system | Windows 8/Android 4.1.1 |
| | |
| --- | --- |
| Operating system restore option | restore partition |
| | |
| --- | --- |
| Supplier | http://shop.asus.co.uk/ |